The British Scooter Riders Association always finish the season off in the East Yorkshire resort of Bridlington, usually around the Halloween weekend.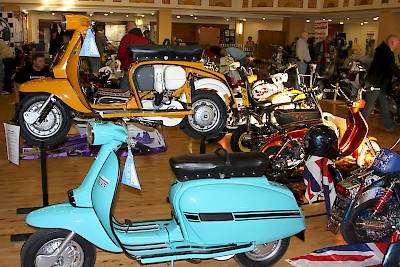 It's a joint operation with VFM looking after the evening entertainment and the Lambretta Club of Great Britain (LCGB) running the huge Trade and Custom Show. All the events are held under the majestic dome of the recently refurbished Spa Complex, a sprawling venue with enough rooms to cater for every musical persuasion.
Bridlington is a very popular event, it's one of those rallies where you have to keep hold of your B&B or you'll struggle to find anywhere to stay, most people rebook for the following year whilst they're still in town and scooterists end up staying miles from town rather than having to miss the event.
This year the rally is being held over the weekend of 30th-31st of October and visitors will see the Spa bursting at the seams for the custom show, as always. If you want to see the cream of the UK custom machines all under one roof you'd better get ready to queue on Saturday. The Spa will also be crammed with a fine selection of traders so it's the best place to be if you're planning on doing a winter rebuild. Aside from the Trade & Custom show the weekend also plays host to the BSRA meeting, an annual chance for rally organisers to pitch their events to the committee for the following years calendar. Votes are cast around the table and the 2016 national rallies will be announced at the end of the meeting.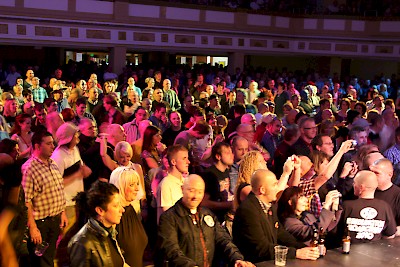 Back to the entertainment though, aside from the main hall (playing a good mixture of popular scooterist tunes) VFM also have Eddie Wainwrights' 'Red Ed's Vinyl Vault' where some favourite northern soul DJ's will be carefully placing some fine vinyl on the decks, none of those new fangled MP3's in there! Fancy a bit of reggae? Luckily the Bosstunes Bar will be catering for lovers of rare ska, bluebeat and reggae. Then on Saturday night an extra room will be laid on for a VFM versus Darkside DJ battle, expect some cracking dance, classic indie and a liberal sprinkling of glow sticks in there. Live music fans won't be disappointed either, Neville Staples (ex Specials) will be performing live on Friday night then Saturday is a double bill, lively punk covers band, Basketcase will be warming the crowds up in their own imitable style before up and coming young band,The Spitfires crank things up another level to finish the weekend off with a massive bang. Remember it's Halloween though so fancy dress is an optional extra but helps to get people in the party mood.
Bridlington really is a be there or be square kind of a weekend, we'll be there so see you at the bar…