An unusually warm October weekend saw thousands descend on the Yorkshire coastal town of Bridlington for the annual end of year Trade and Custom Show.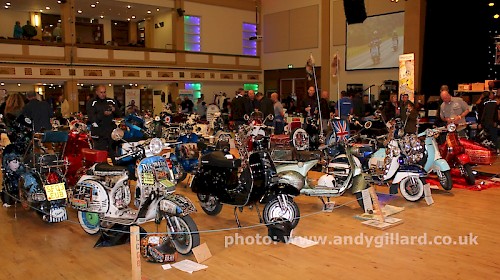 Bookending the Lambretta Club of Great Britain's main event on Saturday, rally-organisers VFM put on entertainment at the Bridlington Spa complex offering live music and numerous DJs to entertain the masses into the early hours.
The show opened at 11am Saturday morning and with punters queuing outside prior to that, the Spa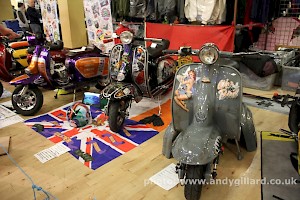 soon filled up with scooterists eager to clap eyes on some of the finest scooters in the land - as well as peruse the trade stalls too of course!
For Lambretta and Vespa fans there were over 100 scooters on display, from restored classics to hybrid street racers, restorations to full-blown custom scooters dripping with skilfully airbrushed murals and gold plated engine parts.
Special guests so to speak were a couple of extremely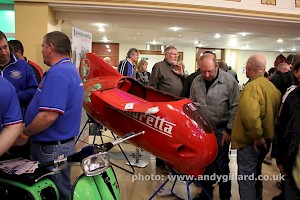 rare classics over from Italy for the occasion; a genuine Lambretta Model C factory racer from the Museo Scooter e Lambretta in Milan courtesy of Vittorio Tessera, and the 1951 201kmh record breaking Lambretta Siluro from the Panini museum which the folks at Rimini Lambretta Centre had brought along. Both scooters attracted a large crowd all day long, which was unsurprising as the opportunity to see either scooter outside of Italy since the 1950s is pretty much unheard of.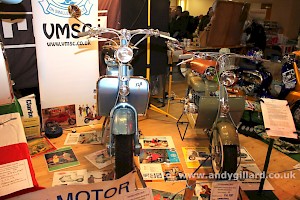 Of a similar age, a 1952 British built Douglas Vespa Rod Model was also worth a second and third look, being in original condition and not long ago discovered in a barn and recommissioned for the road.
At the custom end of things Dazzle, Shame and War of the Worlds came back from yesteryear, while Peaky Blinders, Route 66 and War Bird represented some recently completed machines.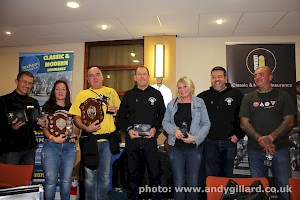 Before the show trophies were awarded, the BSRA Riders' Championship results were announced, an event once again sponsored by Lexham. Congratulations to Vicki Swinge and Rich Cowe who won the female and male rider championships, with Karen Soulsby and Mark Swinge the runners up in each category. London Lambretta Club won the Best Supporting Club award.
So ends another BSRA national scooter rally season. There are a couple more events to ride to this year, but already plans are being made for 2017 - see you on the road!
Andy Gillard
www.andygillard.co.uk