The Hop Farm in Tonbridge Kent was the venue for the 4th national scooter of the year. The event, organised by the Big 7 Scooter Club was granted national status by the B.S.R.A (British Scooter Rallies Association) for the second year in a row.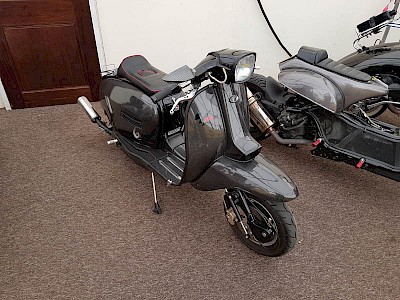 Scooterists from as far away as Germany attended the event as well as many locals and families which resulted in a fantastic turnout. There was more than enough on site to keep everyone happy including a DYNO service provided by Shiny Red Tuning, four music rooms, numerous catering outlets and a parts and traders fair. Lexham Insurance were there amongst other traders offering the very best in spare parts and accessories, clothing, music and everything else in-between. The weather stayed kind all weekend, and although windy, was very hot
Once again, the bands on offer at Big 7 did not disappoint as rally goers were treated to 5 lives bands over the course of Friday and Saturday night covering the best in Ska, Punk, Mod, Two Tone & Northern Soul. Highlights included 'Mr Clean', who provided enough energy on stage to warrant their reputation as one of the leading tribute bands to 'The Jam'. There was plenty of other musical entertainment provided including a reggae room, with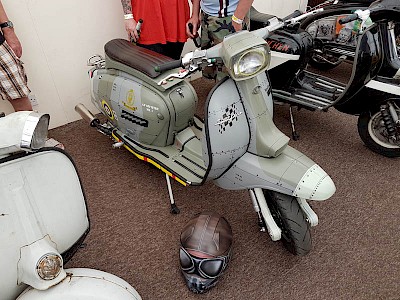 'Olas Boss' playing some classics from across the decades and whose volume and bass was so loud, several alarms were set off due to the vibrations. The Darkside Room was also popular as they offered something different in the fact they were mainly playing dance and house music incorporated with an odd indie classic. After midnight, they also provided a silent disco for everyone who thought they could belt out 'Mr Brightside' the loudest after a few beverages.
The custom show again displayed some brilliant scooters and there are too many too mention individually but please check out our gallery for some that caught our eye. The Spitfire inspired Lambretta GP was a personal favourite.
A great rally once again and looking forward to the next one. See everyone at Cleethorpes.